Warning Signs You Need New Tires

Well-maintained tires enhance your vehicle's efficiency and performance, allow you to get the longest life span for one set (saving you money) and, most importantly, keep you and your fellow travelers safe on the road.
But drivers often don't know how to care for their tires until it's too late. Luckily, there are guidelines you can follow and ways to identify if your Hyundai's tires need a little TLC.
Preventative Maintenance for Your Tires: FAQ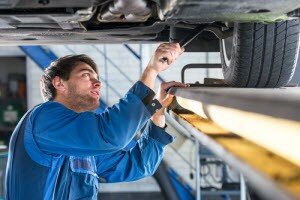 Why are tire rotations important? Since the individual tires on your Hyundai wear at different rates depending on where they're positioned on the car (front to back and side to side), regular tire rotations are crucial for getting the most mileage out of your tires.
How often should tires be rotated? As a general rule of thumb, your Hyundai's tires should be rotated and balanced every six months or 5,000 to 8,000 miles driven. The Action Hyundai service team recommends that you get your tires rotated at the same time that you get your car's motor oil changed. Together, these two quick yet beneficial services help your Hyundai run its best.
How do I know if I need new tires? The average life span of a new tire set is three to four years (with regular maintenance). One of the most popular, simple tricks for figuring out whether your tires are worn out and need to be replaced is known as the penny test. Check out these additional worn tire warning signs to keep an eye out for.
If you're not sure where your tires stand, you can always get a professional opinion from the tire experts at Action Hyundai of Flemington's service center.
Shop Hyundai Approved Tires
Know you need new tires? Head to Action Hyundai's service and parts center and we'll get your Elantra, Genesis, Tucson, or Santa Fe outfitted with a new set. Our parts department reps can provide you with advice on which brand and type will serve your Hyundai model the best.
Once you've picked your Hyundai's new tires, the certified master technicians in our service center will get them properly mounted and balanced so you can get back to your daily routine in no time.
Contact the Action Hyundai Service Team
To schedule your tire inspection, rotation and balance, or tire replacement with Action Hyundai, Flemington, Somerville, and Princeton area drivers can use our online scheduler, call 855-349-4349, or stop by 180 Route 202 and 31 North.
For more tire-related guidance and helpful tips from our service staff, be sure to check out the links listed on this page.