Taking care of your vehicle's brakes is one preventative maintenance service that goes a long way to keeping you and your family stay safe. At Action Hyundai of Flemington, our expert technicians help drivers like you in Flemington, Princeton, and Somerville to keep their brakes in tip-top shape so brake failure is never a possibility.  
To help you better understand what you need to watch out for when it comes to your vehicle's brakes, check out the helpful information from our Hyundai brake specialists on this page.
Schedule Brake Service When…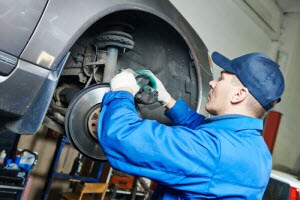 While behind the wheel of your Hyundai car, crossover, or SUV, you should always be on the lookout for warning signs that may point to an internal issue. When your brakes are wearing down or the system as a whole needs attention, there are several hints that may pop up. Make sure that you schedule brake service immediately if:      
You hear screeching when you apply pressure to the brake pedal.
          
Your steering wheel shakes as you come to a stop.
          
Your car jerks to the right or left when you put your foot on the brake.
          
Your dashboard brake light comes on.
Schedule a Brake Service Appointment at Action Hyundai  
In general, your service professional should assess the performance of your brake system during a multi-point inspection, oil change, or tire service. If you haven't been in for service recently and are experiencing one of the warning signs listed above, don't wait any longer to have your vehicle evaluated by a trusted service provider.
Serving local Hyundai drivers in the Flemington, Princeton, and Somerville regions, Action Hyundai's service center is staffed by experienced technicians who can spot brake trouble immediately and help you to get your Elantra, Sonata, or Tucson back on the road in no time.
Get in Touch with Us
Book a time to bring your Hyundai for brake service with us through our online scheduling tool, call the Action Hyundai service department at 855-349-4349, or stop by our service center at 180 Route 202 and 31 North today.