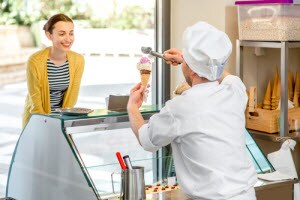 The dog days of summer are here, and downtown Princeton is abuzz with window shoppers, campus strollers, and visitors from near and far. Beat the summer heat while you're out and about in Princeton with a sweet cool-down treat at one of the best ice cream parlors in the area!
Check out Action Hyundai of Flemington's guide to four dessert spots to visit before the summer comes to a close.
YoFresh Yogurt
You can focus on reaching your health goals and indulge in something cool and creamy with a hint of crunch. YoFresh Yogurt in Montgomery, NJ, proves it!
They specialize in being a healthy frozen treat provider offering all-natural, fat-free yogurt, fresh fruit smoothies, and fun toppings to take your fro-yo cup or cone to a new level of tasty. Whatever you go for is sure to amount to calories well spent. 

In addition to YoFresh's many mouthwatering yogurt flavors like cookies'n cream, salted caramel, and Irish mint, you can also find soft serve frozen gelatos, tarts, no-sugar added and dairy free sorbets.

They also have a unique offering of Fresh Juices to fit your health needs such as Garden Magic, Healthy Heart, Citrus Punch, and Organic Juice Cleanses.

Did we mention their bubble tea is the best in town?

Dolceria Princeton
A stack of colorful gelato scoops is the definition of happy. It can be yours when you visit Dolceria on Nassau Street, an Italian-style sweets and coffee house offering all-natural gelato that follows Tuscany tradition.
Refreshing and mood lifting, Dolceria's gelatos and sorbettos are made in unique flavors that you wouldn't see in an ordinary ice cream shop. There's Italian favorites like tiramisu, amaretto, or marscarpone and fantastic fruity exploits like lemon iced tea, cranberry orange, and chai lemongrass that challenge you to expand your cool treat palate!
Fruity Yogurt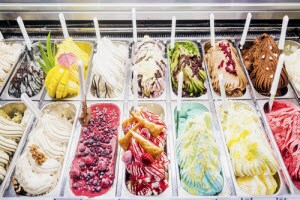 Want to enjoy ice cream without the guilt and be adventurous with your flavor selection? If so, Fruity Yogurt on Nassau Street is your go-to dessert destination. With 62 revolving fro-yo flavors currently featured and just as many toppings available, you can try a new flavor combination every time you go.
Repeat customers appreciate Fruity Yogurt's commitment to quality yogurt and ongoing determination to offer a tremendous array of flavors that go far beyond vanilla and chocolate. Champagne grape to oatmeal cookie butter, new and inventive delectable soft serve is the Fruity Yogurt way!
Purple Cow
Most people would agree that seeing a purple cow would be truly extraordinary. It was this thought that spurred the owners of Purple Cow in Lawrenceville, NJ, to make ice cream that could parallel the same level of wow. Made daily by hand in small batches using premium ingredients, Purple Cow's ultra-creamy ice cream certainly delivers.  
The 20-some flavor lineup at Purple Cow features selections that are fruity through decadent. Locals recommend coffee mud pie and the signature Purple Cow that unites black raspberry ice cream with sweet chocolate shavings.
Whether you go with a cup or cone, rich milkshake, or banana split, relaxing on the Purple Cow patio makes for optimal ice cream enjoyment.
Taste the Best Ice Cream in the Princeton Area!
The next time you're near Princeton and craving something sweet, remember to look up these four frozen dessert shops. You'll be glad that you did!